TOP 12 SUPERFINALISTS 2017
ANNOUNCING THE TOP SUPERFINALISTS
Based on the decision of the jury of the Central Organizer of the contest MISS PRINCESS OF THE WORLD 2017, the President of the contest, Ing. Viktor Krča,would like to take this opportunity to announce the following TOP 12 SUPERFINALISTS of the contest MISS PRINCESS OF THE WORLD 2017.
The jury of the Central Organizer, comprising of a total of 26 persons (national directors, photographers, professionals from the field of fashion, visage, communication, modelling, and production, including several members of the World Final jury), carried out an assessment of all of the delegated finalists, not only in terms of beauty and charisma, but also whether they fully meet all of the criteria of the competition.
The girls who are progressing are listed in the alphabetical order of the countries they represent
TOP 12 SUPERFINALISTS MISS PRINCESS OF THE WORLD 2017
Albania Adriana Shyti
Argentina Marcia Belen Blanco
Belgium Anna Helene Kapiteijn
Brazil Amanda Felski Peres
Canada Arianna Alexandra Laya-Garcia
India Puja Podyutkumar Mondal
Jamaica Danicka Shanel Kaddejah Reid
Malta Dajana Laketic
Russia Ksenia Sarina
Slovakia Lujza Strakova
Ukraine Vlada Alexandrovna Korobko
Vietnam Quynh Hong Pham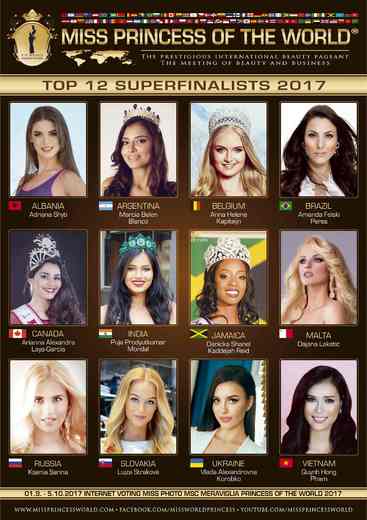 TOP 8 SUPERFINALISTS
will take part in the peak event of this year's World Final the WORLD FINAL CEREMONY on the new, luxury cruise ship MSC MERAVIGLIA (29.9. – 6.10.2017).