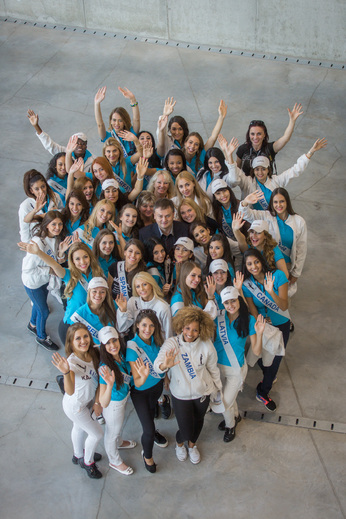 The girls spent Thursday morning by exploring Ostrava, the city of techniques. First, they looked into the depths of the earth in The Landek Park, and after it they visited an interactive exposition which shows the beauties of nature in The Science and Technology Center Ostrava Vitkovice.
Ostrava is named like a black city, because the coal which was mined here. The finalists of Miss Princess of The World were also black because of coal when they visited The Landek Park and went down into the mine. "So much beauty there has never been," Arnošt Felkl who shepherd girls through mine said. Princesses experienced true darkness mining, learned something about the origin of coal and had a lot of questions. Miss Namibia Ester Ndapewoshali Shatipamba was the most interested in mine because she tried to compare mines in Namibia and in the Czech Republic.
Another point of interest, where the girls looked, was The Lower Area of Vitkovice in Ostrava. "Miss visited The Science and Technology Center today, specifically the section titled natural world. I think that part named tree is the most interested for them. In this part, they can really climb the tree. For me the universe is also entertainment, because it has an atmosphere like in planetarium," the animator Martin Vráblík said. In the world of technology, girls could try to produce electricity, listen to the sounds of his body, imitating the movements of animals or see our planet at night.
"I wanted that the princess could recognize Prague as a city of monuments and Ostrava as a city that has a rich industrial heritage. Therefore, we went to the mine and into the World of Technology today," Ing. Viktor Krča president of the Miss Princess of The World said.
The girls practiced choreography for the tomorrow's galaevening during whole afternoon. But it was not the only thing. Miss had to manage PC discipline which is already included in the final evaluation.