The world princesses joined the Prague's elite on Thursday
01. 10. 2011 v 12:01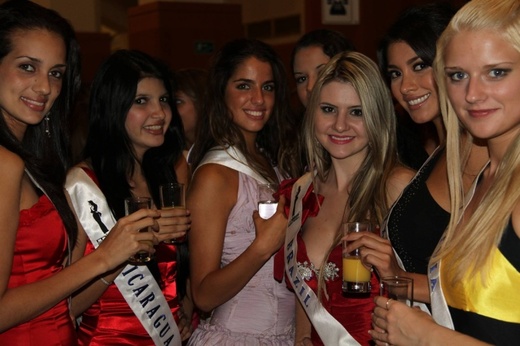 The first stop was at Wencesla's square at the Half&Half restaurant in the early evening. As the name already outlines, it is a place in the heart of the city , where you can find big portions of delicious international cuisine at half price. From czech svíčková and goulash, to greek gyros, famous pizza and also the best ice-cream in Prague. All is home made
from quality ingredients. Mr. Vasilis Gialauzidis warmly welcomed the princesses and made their sweet wishes come true in what concerns sweets, ice-creams and cakes. The princesses were delighted with the nice service and
the huge spaces on the first floor. But the most wanted were the cakes, which get also ordered here by czech celebrities.
The program led the finalists of the Miss Princess of the World contest to Wencesla's square to the well known shopping entre Koruna, where a festive inauguration of the lebaneese restaurant El Emir and the opening of the boutique Denny Rose was going on. The moderator Petr Rychlý welcomed the princesses of the world on stage, where they posed for all the present guests.
Together with the finalists of Miss Princess of the World many present celebrities could toast with them. The event was attended by for example Helena Vondráčková wih her husband, the fabion designer Blanka Matragi, the moderators Ilona Voldánová and Marta Ondráčková, Michal David and last but not least Felix Slováček, who joint the girl for a small dinner at El Emir.
The finalists of Miss Princess of the World visited the music bar Mazaný Králíček, were was going on the traditional LOOK magazíne party. The singer Olga Lounová, who moderated the whole evening welcomed the finalists on stage. The famous bar in the style of Pulp fiction welcomed other guests such as the czech vicemiss Bára Kolářová, the conductor Petr Chromčák and the known musician Felix Slováček, who joined for this evening his program with the time schedule of the contest.