The Winner of Miss Princess of the World 2011 is Mexico!
01. 10. 2011 v 10:05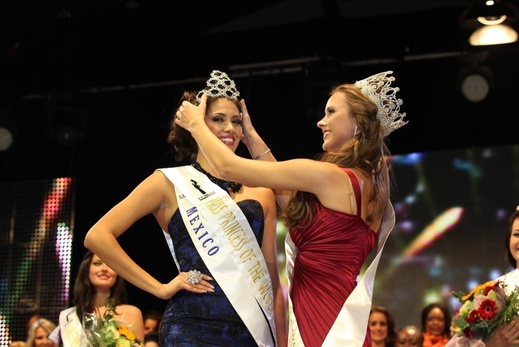 The final gala evening of the contest Miss Princess of the World took place on Saturday 1st, 2011 at Top Hotel Praha in Prague. Fourty two girls competed for the crown. Guests started gathering before eight, into the Congress hall at the hotel in order to appreciate the beauty and talent of the finalists. For the finalists this was the turning point after ten days of challenge.
The gala evening was started by a short retrospective of the history of the contest Miss Princess of the World. The moderators Jan Čenský and Michaela Ochotská, were the ones to guide through this gala evening. Furthermore, there were the ones to introduce all the beautiful girls in their astonishing outfits to the jury and public.
The jury was formed by celebrities, including important persons from showbusinessman, as for example in this concrete case, Felix Slováček. Furthermore among the jury we can also find ambassadors and national organizators and other important guests. This year sat in the jury: Last year's winner Miss Démanté Bubelité from Lithuania, the president of the contest Ing. Viktor Krča and others.This year Geofin and LR Buksa and partner became general partners to the contest.
The show begun with the first discipline, which was a fashion show. The girls wore gowns by the Czech designer Luděk Hanák during the fashion show. Also the title of Miss Photo-which was voted on the internet, where viewers could vote for the finalists they liked best- was handled to the winner. The winner became the finalist from Ukrajina, Viktoriya Nimets.
Along the gala evening, some other titles were handed to its winners such as Best National Costume, Miss Talent, which went Szonja Dudik from Hungary.
The guests could also watch the video interview from the promotion tour both from the Czech Republic, together with the four best performances of Miss Talent. Along the video interviews, the talent of interpreters from the Czech Republic such as Marek Ztracený and Ilona Stryová, but also foreign guest performers as the singer Carmine Dorsi shone from the stage.
The hot moments came just moments later, as soon as the swim suit promenade started. And right after that the nine remaining super finalists were declared. The final nine girls to continue in the battle for the crown were: Czech, Hungary, Mexiko, Slovakia, Philipines, Malta, Spain, Vietnam, Guyana.
The last discipline the nine girls had to face, was the most feared one. The interviews. In these nothing could be hidden behind beauty, gorgeous smiles, banging curves and an overall fabulous look. After this last discipline it was all up to the jury to decide who will be Miss Princess of the World 2011. The voting was done by the jury and verified by state notary Mr. Radim Neubauer. And then the one and so much awaited moment came: the announcement of the final winners.
In the final defilé along the stage the finalists wore gowns from fashion designers Irma Manjgaladze and then, moderator Jan Čenský announced:
Miss Sympathy Princess of the World 2011 – Diana Sunshine Rademann from Philippines
II.Vicemiss Princess of the World 2011 – Yen Cao from Vietnam
I.Vicemiss Princess of the World 2011 – Michaela Karaková from Slovakia
Miss Princess of the World 2011 – Carmen Isabel Chavez from Mexico