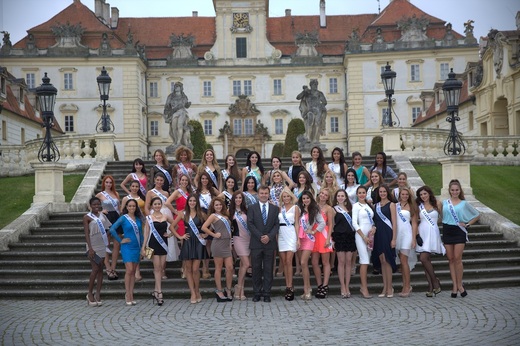 Program of Miss Princess of The World assembly moved to Moravia yesterday. First stop was the South Moravian town Valtice. "The girls visit the newly renovated City Hall in Valtice, then they will visit the castle, we also accompany them to Wine Salon, where they will be able to sample a selection of the hundred best wines for 2014. And in the end they will visit Valtice underground, a kind of labyrinth of cellars," Ing. Pavel Trojan explained the program of visitation in Valtice.
Steps of princesses led straight to the castle. "It's an extraordinary experience. In my country we do not have anything like this," Miss Namibia Ester Ndapewoshali said. The girls visited the room and learned something interesting about the castle, but also the family who lived here. "When I compare the Prague Castle and Valtice, so I have to say that Prague Castle is beautiful from the outside, but Valtice are beautiful in their entirety," Miss Guatemala José Maria Larranaga Retolaza said.
The girls visited the Wine Salon, where they learned to taste wine properly and they tasted a selection of the best what the salon offers. The tasting was structured so as to still taste sweeter and better wine for princesses. The best taste of wine for princesses was a sample that was definitely the sweetest.
After tasting the princesses moved for dinner in Valtice underground. They had the dulcimer and some competition here. The girls pressed wine by their legs, they decorated with grape leaves or they stretched to siphon water. Girls enjoyed program until the last minute and in the end of the evening even princesses sang a song together.