The Princesses at training and in tanks
28. 09. 2011 v 10:50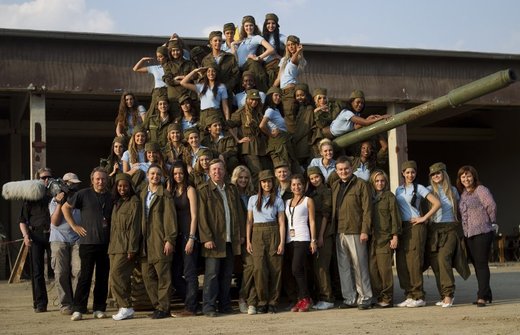 The fourth day of the accompanying program of Miss Princess of the World reminded us of Czech history through the eyes of those who deployed their life for it. Princesses of the world visited a military memorial, where they honored the memory of the fallen soldiers with a floral wreath.
A visit to the local museum followed, together with the signing of the memory book for special guests. "The cementery has been working from 1915 until 1945. Here are lying bodls of soldiers from different nationalities and religions. The average age of the buries soldiers is 25 years. The interesting thing is, that we currently find ourselves on Italian soil. Here are valid the italian laws and we even keep thein national holilys." Says the cementery manager Miroslav Čerepušťák.
The program followed at former military grounds in Milovice. There was a unique experience waiting for the finalists of Miss Princes sof the World. Right inside the complex they could get a closer look at czech military technology. A former professional soldier with the rank of captain took all princesses for a ride on a 13 tons, which has been transformed to transport civilians. He received a huge applause from the finalists for his performance.
The girls could also try to fire archem, air guns with optical sight and paintball guns, furthermore archery. The girl even saw the performance of one of the tanks. " The tank 55, the so called Hummer is equipped with additional armor and detection of laser targeting. As every technical tig it requires a lot of maintainance. We have an kation for that: ten minutes riding equals ten hours of consequent work."confessed captain Jiří Kropáček, about the tank.
The last part of the program took place at the cozy Motel " U Krbu". A lot of relaxing activities were waiting there for the princesses. Such as bowling or interactive consoles Microsoft Kinect, which react to body movement. After a delicious banket the girls quickly shrugged off their tension and hit the dancefloor. Petr Chromčák, conductor, as one of the members of the final jury came to visit the finalists. " I am very excited to go to the final gala mening and I will enjoy it in the same was as I enjoy conducting. Women are and have always been my biggest inspiration, and all my artistic work in the music field comes out of that inspiration."