The internet voting Miss photo is on!
25. 09. 2011 v 01:05
The official inauguration of the world final of the prestigious international contest MISS PRINCESS OF THE WORLD took place at TOP HOTEL PRAHA on Friday October 23rd 2011. Together with the official opening, will also begin the internet voting on the official web sites of the contest ww.missprincessworld.com at midnight on september 25th 2011. The fans of the contest can therefore send votes for their favourite candidate.
The visitors of the web pages can vote for their favorite finalist from the midnight of September 24th 2011 and it will last until October 1st 2011. The girl who will obtain the major quantity of votes during this period of time, will gain the
title of Miss Photo Princess of the World 2011.
The results of the internet voting will be known at the final gala evening, which will take place in TOP HOTEL Praha from 8pm on October 1st 2011. Together with the winner of Miss photo will be declared the winner of Miss Symphaty- which is voted by the girls between them, Miss Talent- the girl with the best free discipline and Miss Best National Costume.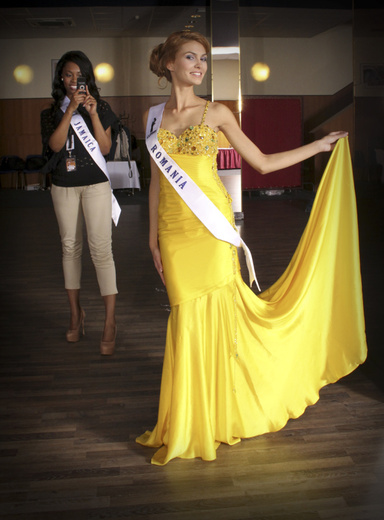 Even the ones who won't be able to attend the final will have a chance to watch it."We have assured satelite transmission to Europe, Asia and Africa", confirmed the president of the contest ing. Viktor Krča and completed his statement with " We also tested first a live on-line broadcast of the final over the internet and due to the huge amount of positive reactions, we will repeat this transmission in order to enable viewers to see the gala mening on thein computers".
The gala evening is going to be moderated by the Czech moderators Michaela Ochotská and Jan Čenský, this year. Besides the 44 world finalists and a traditional program with fashion shows, free disciplines or swimming suits promenades, there will be also performances by top artists such as Kamil Střihavka, Andrea Kalivodová, Jaroslav Svěcený with his daughter, Felix Slováček, Petr Vondráček & Lokomotiva and dancing and acrobatic performances, a charity auction, christening of a new archive wine Princess and a barman show.