Princesses of the world at the Karlštejn castle
27. 09. 2011 v 08:24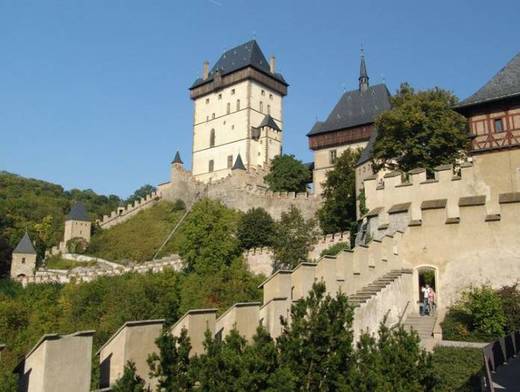 We could hardly imagine a more proper place for princesses than the majestic castle of Karlštejn. On the second day of their promotion program the finalists of Miss Princess of the World were, accompanied by fanfares, welcomed by the czech, german king, and caesar of the holy roman empire Charles IV, represented by the actor Zdeněk Krajíček. The princesses felt like home at the kastle. Every single of them got the chance of a personal audience with the king, meanwhile the father of the homeland was even blushing. The fourth wife of Charles IV and queen Eliška Pomořanská together with the prague arcibishop also took part of the welcome Cremony.
The burgrave of the Karlštejn castle, played by the caste warden, ing. Jaromír Kubů, briefly introduced this beautiful historic monument: "Karlštejn castle is one of the most signifiant castles in czech history. The king Charles IV did bring to the castle the major treasure of the catholic world-the imperial sacramentals. Including the caesar crown, with which he was later crowned caesar. But until now, the castle has never seen so manyprincesses all together!"
Karlštejn was vibrating during due to the wine harvest feasts. Around 300 people in traditional costumes did assure a unique atmosphere. Drummers, clowns, jugglers, sword fighters were competing to get the attention of the beautiful princess', who were watching the rich program.
The program included a tour of the castle itself. The finalists of Miss Princes sof the World experience on their own skin the security of the walls of the Karlštejn castle. The guide in a glossy page costume guided the girls through the caesar's palace and through the first floor of the marian tower, where Caharles IV lived himself. The girls were impressed by the
hall of ancestors, where they found out about the noble origin of the caesar. Paintings of the komplete line of the remyslids, part of which wwas even Charles IV and he proudly declared it. Forefather Čech and Premyslid Oráč are
displayed on them. The guide Jiří Smrž says: "It was really beautiful and I was very glad that I could get the girl's
attention with my speech. I tis nice to see beautiful and smart girls who are interested in our history."
The finalists of Miss Princess of the World were excited about the magical atmosphere of the castle, enhanced by the unique equipment of the rooms. Gabriela Jelínková, who touched the audience almost to tears, came to sing to the "princess".