TOP 8 SUPERFINALISTS 2017
TOP 8 SUPERFINALISTS MISS PRINCESS OF THE WORLD 2017
Albania Adriana Shyti
Argentina Marcia Belen Blanco
Brazil Amanda Felski Peres
Canada Arianna Alexandra Laya-Garcia
India Puja Podyutkumar Mondal
Malta Dajana Laketic
Slovakia Lujza Strakova
Ukraine Vlada Alexandrovna Korobko
The girls who are progressing are listed in the alphabetical order of the countries they represent.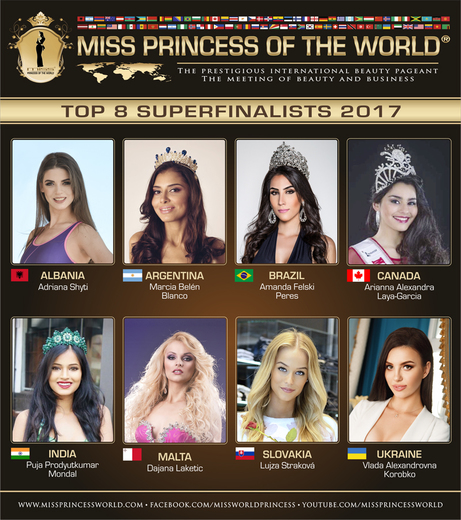 VOTING MISS PHOTO MSC MERAVIGLIA
The contest for the title MISS PHOTO MSC MERAVIGLIA Princess of the World 2017 is in the form of internet voting by viewers, and was started on 1.9.2017 on the official website of the contest, www.missprincessworld.com. Voting takes place through the personalized login of each voter through Facebook's social network, so as to ensure that everyone can vote only once. Voting will end on the final day, on 5.10.2017 at 12.00 CET, and will be announced during the WORLD FINAL CEREMONY 2017 on the cruise ship MSC MERAVIGLIA.