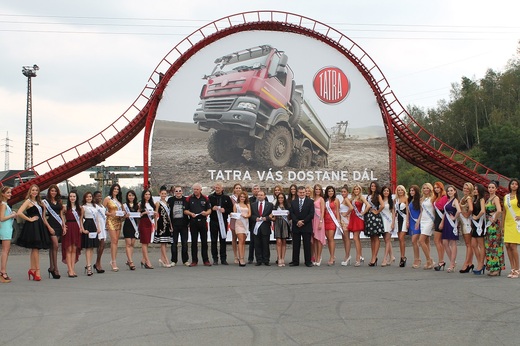 The girls devoted Wednesday morning to sport activities. In the afternoon, they moved to the Libros Company. Princess at first participated in the opening of the new polygon, but also had the opportunity to ride in jeeps in Ostrava in Centre for safe driving.
"I'm really proud that I can have Miss Princess of The world in my company. But I have to also add that they are here for the third time and each time it gets better and better. We tried a lot and preparing this show for some time. I believe that the girls will be satisfied," owner of company Libros Libor Václavík said. Mr. Václavík really did not have to worry about. After the official ceremony, girls got into the car and new experiences could start. "It was awesome! As we drove down and back up. At first I was scared, but then came a huge adrenalin and joy," Miss Namibia Ester Ndapewoshali Shatipamba said.
Miss also visited the Centre for Safe Driving for kids. Here children were impatiently waiting for ladies to show them how to properly drive around in cars and what it means to ride around the columns Miss Princess. "Kids are really sweet," miss Australia Charlotte-Anne Burbidge said.
And what connection between beautiful women and powerful cars saw the owner of Libros Company? So what is the reason for visitation of Miss Princess of The World? "The connecting element is the Centre of safe driving. We start with the smallest children here. The roads are very dangerous, so we have to do something to ensure that children grow into beautiful women and men. So I see the combination of feminine beauty and heavy trucks mainly seen in the contrast. Two extremes and between them it is everything else what we are talking about," Libor Václavík closed.