MISS ON ICE 2017 and the PRINCESS HOCKEY CUP 2017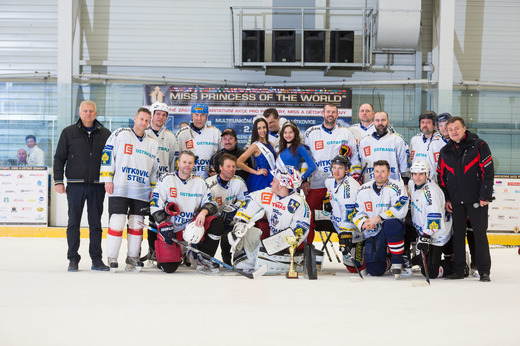 The second day of March, in the year of our Lord 2017, the Multifunctional Hall in Ostrava-Vítkovice came alive with three hundred participants of the attractive sports entertainment charity event for children from children's homes, low threshold facilities and leisure centres of the Moravian-Silesian Region, called MISS ON ICE 2017 and the PRINCESS HOCKEY CUP 2017.
This event, has earned fame thanks to its interesting programme. The visitors were charmed by our most beautiful girls from MISS PRINCESS OF THE WORLD Czech Republic 2016 Mirka PIKOLOVÁ from Prague
and the II. VICEMISS, Julie HOJDYSZOVÁ from Frýdek-Místek.
To guests showed figure skating performance by the junior silver medallist of the Czech Republic, ANETA JANICZKOVÁ, and multiple champion of the Czech Republic, JAN KURNÍK.
Then, the perfectly prepared ice belonged to the participants, and mostly the children enjoyed a lot of fun and skill competitions, such as skating on one leg, squats, piruettes, jumps, trains on the ice, and skating to music. At the same time, future ice hockey players tried to score goals against professional goalkeepers,
and our beautiful girls, looking like white angels, gave out sweets and gifts to the children on the ice.
After the arrival of the great hockey players, followed by a joint photo on the ice at the peak of this section, the attractive viewers' discipline for the best shooter with lots of separate advances, from which victorious hockey players emerged in three age categories. A trophy and many prizes were taken away: for children, Adélka Zapletalová, for juniors, Filip Vaňa, and for the adult ice hockey players, Jiří Badin. The best shooter even received an airplane flight from the company DOVA Aircraft, directly from the hands of the pilot.
There followed refreshments, in co-operation with PULS restaurant, together with partners Tom Fruit CZ, Starbucks, Havlík Opal, and Vineyards Reisten, who had stands ready with catering, where there was certainly plenty to choose from for both children and adults alike. The most beautiful souvenirs at the event were photos at the CANON booth, which was constantly surrounded by children.
At the end, the audience could see an exhibition hockey game for the PRINCESS HOCKEY CUP 2017 trophy, between the teams EUROMASTERS and FRIENDS, and with the participation of former NHL hockey players, where the winning team captain, Pavel Cagaš, received the cup from the president of the competition and the current MISS.
We would like to thank everyone associated for their support, prizes, and gifts for the participants, and most of all we would like to thank the companies REMARKPLAST GROUP, TOM FRUIT CZ, LIBROS, STARBUCKS, Vineyards Reisten, BHC INTERNATIONAL, ROB DESIGN, and HAVLÍK OPAL. The fact that everyone enjoyed this beautiful day could be seen on the faces of all of the participants as they left.