MISS PRINCESS OF THE WORLD celebrates 10th anniversary of its existence, the world´s winners visit the Czech Republic and the Mediterranean Sea
20. 08. 2012 v 09:10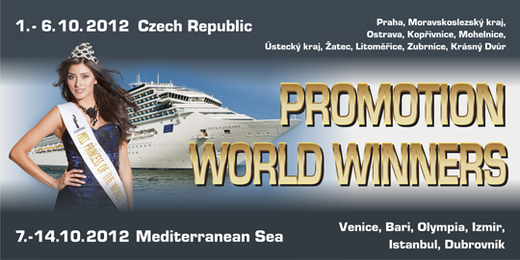 The prestigious world contest MISS PRINCESS OF THE WORLD at the 10th anniversary of its establishment welcomes in the Czech Republic on 1st – 6th October 2012 winners of previous years.
Participation already confirmed winners from Mexico, Venezuela, Nicaragua, Lithuania and Slovakia.
These beautiful girls of the world together attend promotion events in Prague, Moravian-Silesian Region and Usti Region. After they will fly with the Presidium of the contest to Venice, where they embark on a luxury ocean cruise and their promotion will continue in the cities of the Mediterranean Sea.
The event is aimed at the preparing the MISS PRINCESS OF THE WORLD 2012-2013, at which reports record number of new countries. The participation in the Word final of MISS PRINCESS OF THE WORLD runs organizers from 60 countries and gala evening is planned for October 2013 in the Prague Congress Palace.